About Us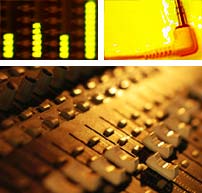 Introducing Sonic Weekly
A private social network for the music community, featuring the web's leading online Music Business Directory.  Sonic Weekly provides a space for musicians at all levels to connect, create, discover and learn.  Our comprehensive online Music Business Directory makes it easy to find music-related services and thousands of the creative professionals who play a vital role in the music industry.
Sonic Weekly is a musician's first stop when choosing a business and comparing products and services. Our Music Business Directory has more than 22 categories covering all aspects of the music industry:
Artwork/Design
Audio, Video & Film Post-Production
Booking Agents
Duplication/Manufacturing
Equipment Manufacturers
Equipment Repair/Rentals
Home and Pro Studio Services
Instruction/Education
Legal Services
Live Sound Services
Management
Mastering Facilities
Merchandise Companies
Mobile/Remote Recording
Photographers
Printing & Packaging
Producers
Promotions/Publicity/Marketing
Publishing
Recording Studios
Rehearsal Space
Session Players
Web Design
For additional information, please contact us: Contact Us.